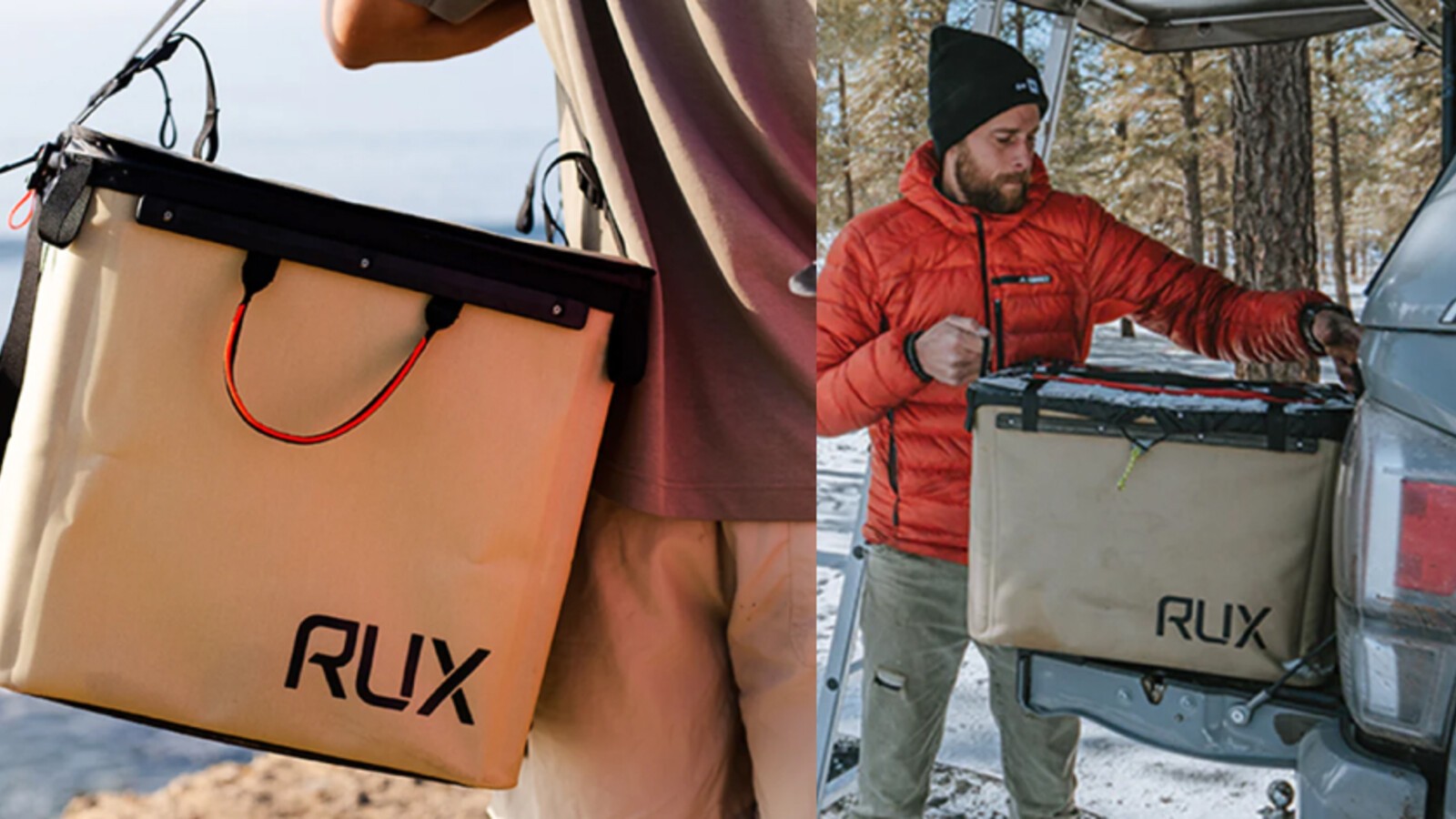 We may earn a commission for purchases using our links. Learn more.
About 6 months ago I started seeing these Rux ads all over the place and I don't know why, but I wanted one immediately.
If you have seen the ads you probably feel the same way. The way it just snaps together grabs your attention and then the way they pair with those cinematic outdoor locations gives you that "Yellowstone" feeling.
You know the one I'm talking about. That one when you start watching Kevin Costner strutting around his ranch and picture yourself wearing cowboy hats, stiff blue jeans, and leather boots and start telling yourself "I'm moving to Montana buying a ranch and never looking back."
So after using my Rux every day for the last 6 months let me tell you why I want to buy another one.
Updated December 3, 2023: Grab A Rux Today for a limited time they are offering special pricing → Click HERE
When you first look at the Rux it's easy to say to yourself, "It's just a storage bin. What's so special about it?"
Let me be the first to step in here and correct you: Rux is not a storage bin — it's a Gear Junky's dream. On their website, they call it "Collapsible, Weatherproof, Gear Storage"
What I Love About Rux
Aesthetic & Design You cannot look at the Rux and not appreciate the attention to detail. It was obviously designed by someone with a love for the outdoors and a passion for product design
Build Quality The build quality and material selection are head and shoulders above anything else you might compare it to
Functionality The fully collapsible design and modular storage components make it the most versatile piece of storage gear you will own.
Storage At the end of the day, it doesn't matter how good they look… It needs to be a pro at hauling your gear around.
I will be the first to admit that there is some sticker shock when you see the price of the Rux. But be honest with yourself, how many pieces of gear have you bought that you use 1x a year (or less)? Or better yet, how many Yeti coffee cups are sitting in your cupboard?
So many products that we buy are equivalent to single-use plastic.
You know exactly what I'm talking about. Just think of every piece of gear you have bought off Amazon in the last few years. The photos look good, good reviews, it shows up 2 days later and… it's about 50% as good as you were hoping it would be. But because you paid Amazon prices for you it you don't care — it gets tossed in a drawer never to be seen again.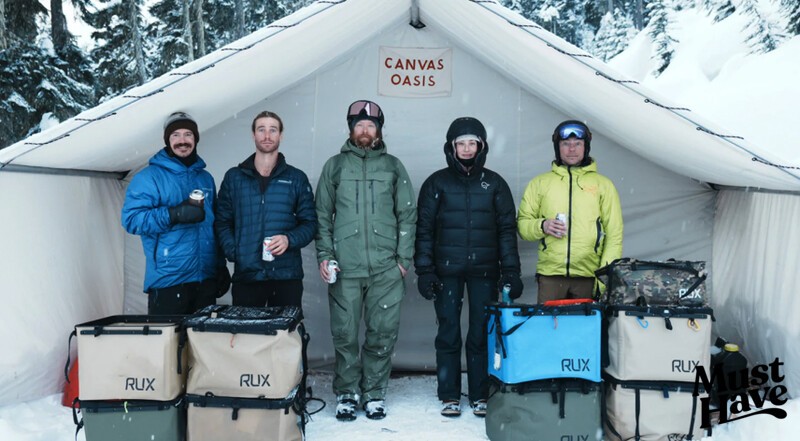 Rux is like that camping heirloom that's going to get used for years to come (maybe decades).
Rux is not that. Rux is like that camping heirloom that's going to get used for years to come (maybe decades). Just like that 20-year-old Patagonia hat your Dad used to wear, 20 years later it's sun-faded, a little frayed around the edges, and maybe a stain or two but it's the hat you always seem to reach for.
Most Popular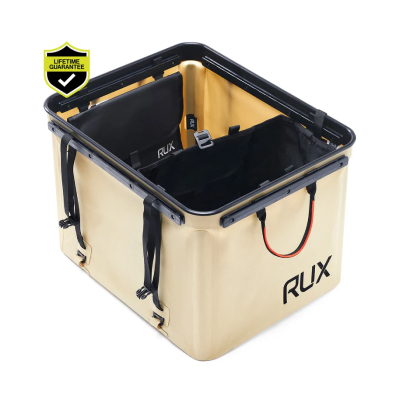 Ships Next Business Day
Elevate the RUX 70L's gear organization even further with the RUX Bag and RUX Pocket. Save per item + the Essentials Set ships FREE.
Tested & Approved
The Rux is backed by a lifetime warranty and their core business model is sustainability. They achieve this through a process they call Design for Disassembly which means that every piece or component on your Rux is made to be either repaired or replaced.
Stop Using Reusable Grocery Bags are Gear Haulers
A quick look at the Rux Instagram account and it's really obvious all the possible ways you can use the Rux to enjoy the outdoors. So Im not going to hammer those into your head just go take a look and try to tell me you don't want to trade places with the people in the photos immediately.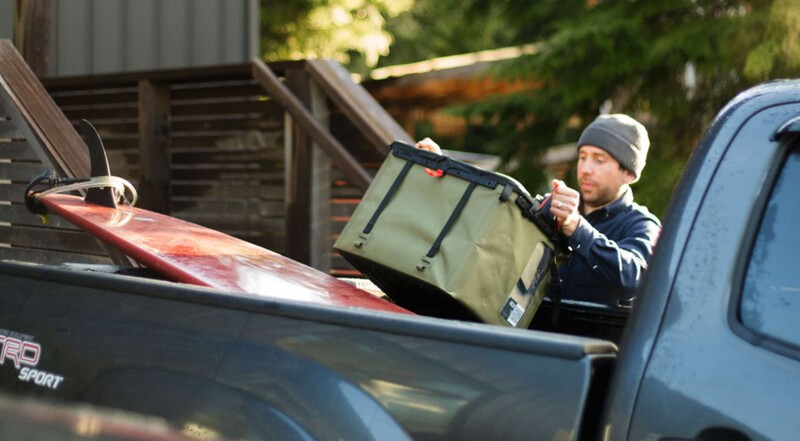 But if you are like me and a lover of all things outdoors, you know that feeling when you are getting ready to go camping, hiking, or surfing. You just keep hauling armfuls of gear to the car, some of it in bins, some in reusable grocery bags and the rest just laying on the floor of your car. Yeah we all do it — we just don't take pictures of that and put it on Instagram.
Rux solves this problem and solves it in a beautiful way
Rux is a 70L catch-all storage solution. I like to think that I'm a minimalist but it seems that every time I leave the house it looks like I'm running away from home. I've got my;
Lunch
Gym Clothes
Gym Shoes
Towel
Dog Stuff (Yes my dog comes to work with me)
Change of Clothes for After work
Laptop
Plus some extra miscellaneous items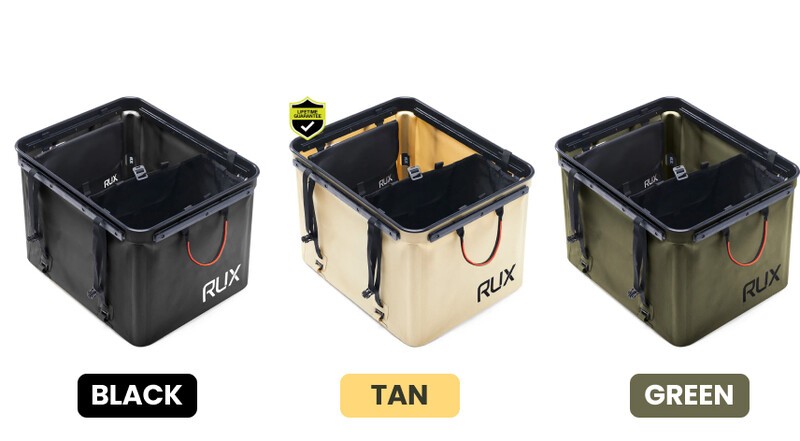 Before I started using the Rux I had this combination of a gym bag, a work bag and a backpack that came with me every morning. Now, it's just the Rux — grab and go.
At first, I didn't love the lack of organization inside the Rux but then I discovered the Rux Bag & Rux Pocket and they give me just enough organization.
The Rux Bag is a perfectly fitting insert that drops into the Rux and acts as a divider inside the Rux. The Rux Pocket attaches to the Rux Rail and gives you a place to store smaller items for easier access to things like your keys or wallet.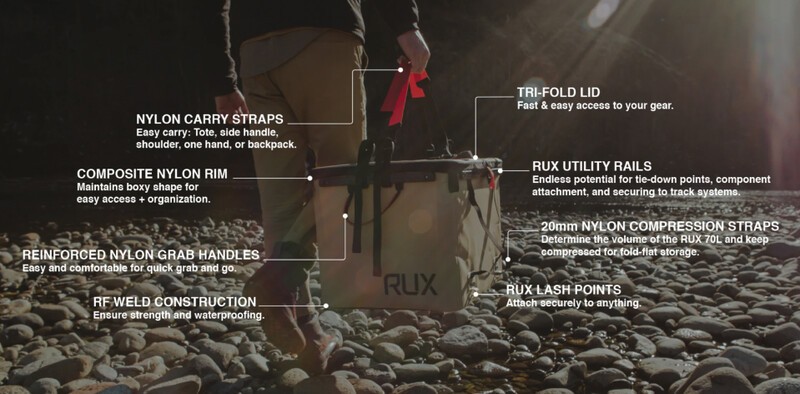 Rux is a Winner in my books
If I haven't made it clear by now Rux is a winner. A reusable bag is a tough competitor, but if you are looking for a real solution to organize all your gear then it's pretty obvious what you need to do.
I use mine every day and have a second one on my wish list this year.
If you aren't sure where to start, I recommend looking at the Rux Essential Set (that's what I have). But be careful — they don't advertise this on their site but the minute you start using your Rux you will feel different. You might even develop that John Dutton Swagger.
Scott Adamson
The Journey Senior Commerce Editor