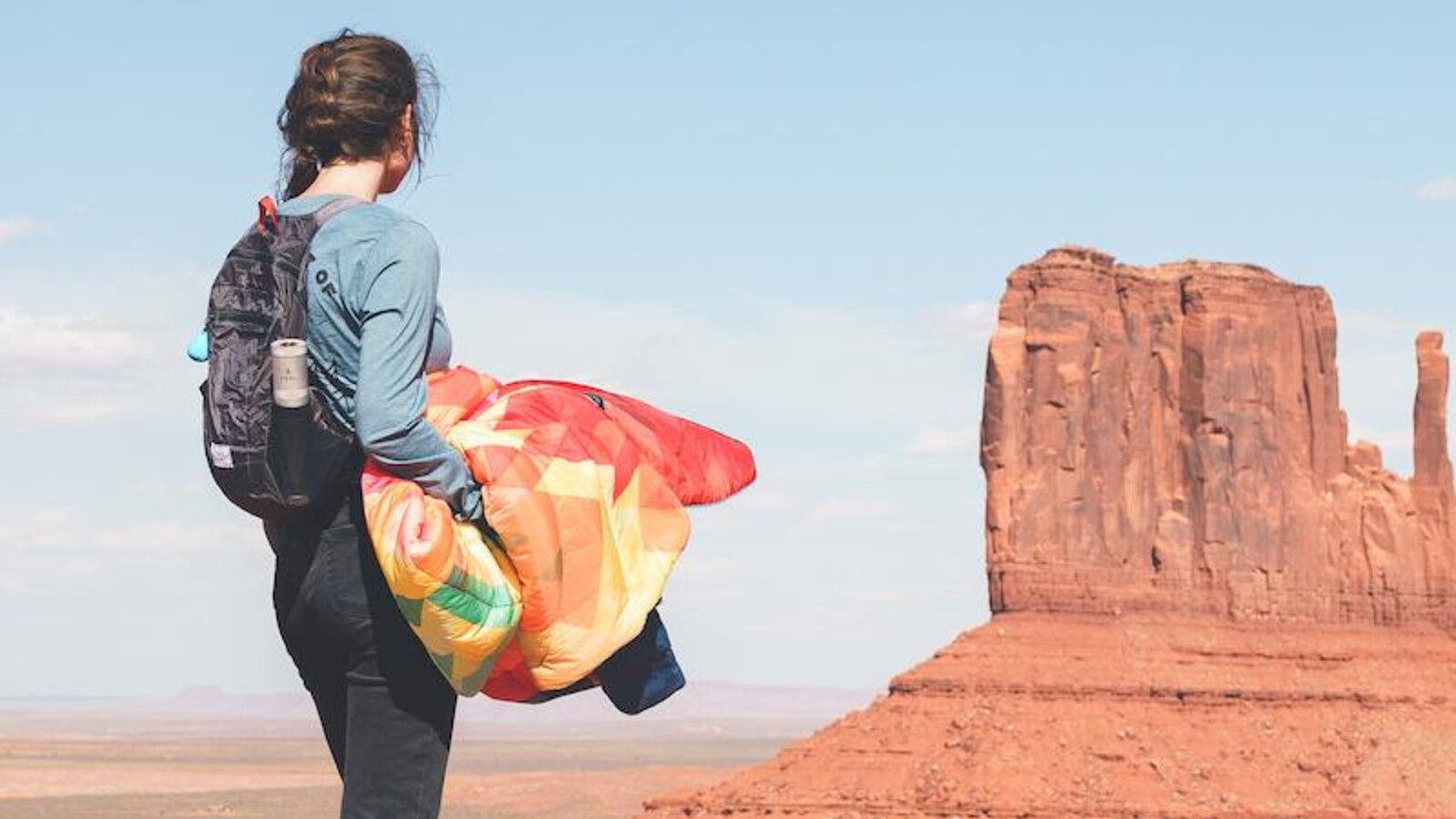 We may earn a commission for purchases using our links. Learn more.
I absolutely love spending time outdoors, but I hate being cold. While layering up is a sensible option, you can't beat the cozy feeling you get when you're snuggled into a toasty blanket.
I'm always wrapped up in a blanket on the sofa at home, but my favorite throw blankets won't cut it when we're on the porch at our cabin, enjoying some sea air at the beach, or trying to stay warm in a tent.
An outdoor blanket is the perfect solution for these scenarios. More durable than standard blankets, and bringing the warmth you need to endure chilly nights, a quality camping blanket is a savvy choice for anyone who spends time outdoors.
Here are five outstanding outdoor blankets I'd recommend making room for in your camping kit.
What We Looked For
Materials Outdoor blankets need to be able to withstand rough and tumble treatment. I've considered how durable the fabrics are.
Portability If you're spending time outdoors, you're going to be on the move. I have only considered blankets that have a carry case.
Adventure-Ready These blankets need to keep up with your antics in all weathers. Water resistance was an important factor I looked at.
Design Blankets are a practical addition to your camping kit, but they need to look good. All these choices have stylish looks.
Staff Pick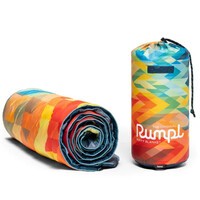 100% Recycled | DWR Finish | Cape Clip
This modern-day design classic from Rumpl sets a high benchmark for outdoor blankets.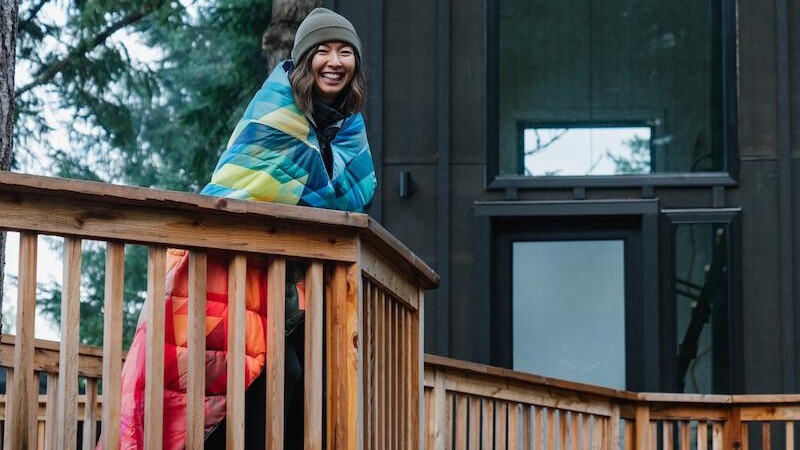 The founders of Rumple got stranded in a freezing camper van on a Californian ski trip and came up with the idea of an "outdoor" blanket made using the same materials used in high-end sleeping bags and outerwear — and so the Rumpl Original Puffy Blanket was born.
I like the thoughtful details a Rumpl blanket offers:
Corner Loops that let you peg it and use it as a picnic blanket or in a hammock.
A Cape Clip so you can secure the blanket around your shoulders leaving your hands free to stoke the campfire or grab a beer.
A Water-Resistant Stuff Sack to keep it compact and dry while on the go.
I was impressed that Rumpl's blankets have amazing eco-friendly credentials. They are made using 100% post-consumer recycled materials to create both the polyester shell and cozy insulation.
This blanket is made from the same materials as premium sleeping bags and insulated jackets.
That polyester shell is then given a DWR finish — this makes the blankets stain- and water-resistant. Should your blanket get grubby, and let's face it, it probably will, you can chuck it in the washing machine.
Staff Pick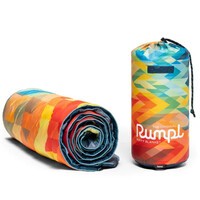 100% Recycled | DWR Finish | Cape Clip
This modern-day design classic from Rumpl sets a high benchmark for outdoor blankets.
Tested & Approved
The Rumpl Original Puffy Blanket is a versatile choice for the great outdoors, giving you a wearable blanket that's durable enough to be used as a groundsheet.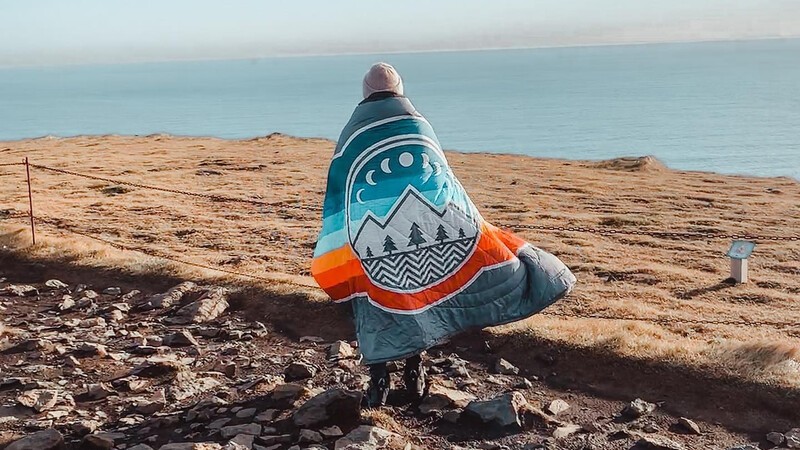 Voited's four-in-one PillowBlanket is multitasking marvel that, as well as working as a cozy, outdoor-friendly blanket, can roll up into a pillow, folds into a sleep sack, and has a snap closure to convert it into a water-resistant cape.
This attractive range of blankets is made of 100% recycled 50D Ripstop REPREVE fabric that's filled with 3D Featherlight Fiber, a breathable and warm micro-thermal insulation. These blankets are available in a range of cool vintage-inspired designs that will bring some rad, retro chic to your campsite.
Runner Up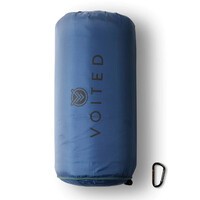 Range of Designs | Made From Recycled Plastic Bottles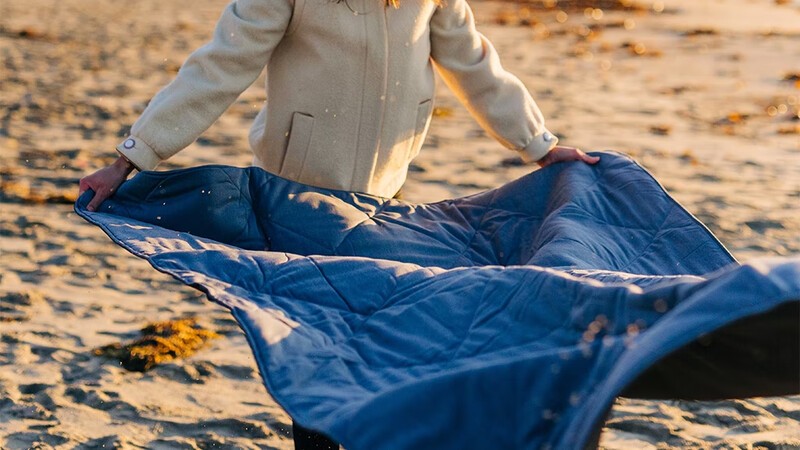 Yeti calls its Lowlands blanket a plush, all-terrain solution. This has a "Hydrobarrier" waterproof outer layer that's designed to also repel sand, dirt, burrs, and pet hair, making it a practical solution. The padded polyester filling insulates you against the cold and is kept in place with the quilted stitched design.
This blanket's design incorporates six handy utility loops so you can easily stake it down or hang it up. The Lowlands blanket is available in canopy green, fireside red (actually more of a pink), smoke blue, and is supplied in a sturdy carry case.
Runner Up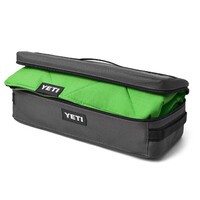 Waterproof Outer | Six Utility Loops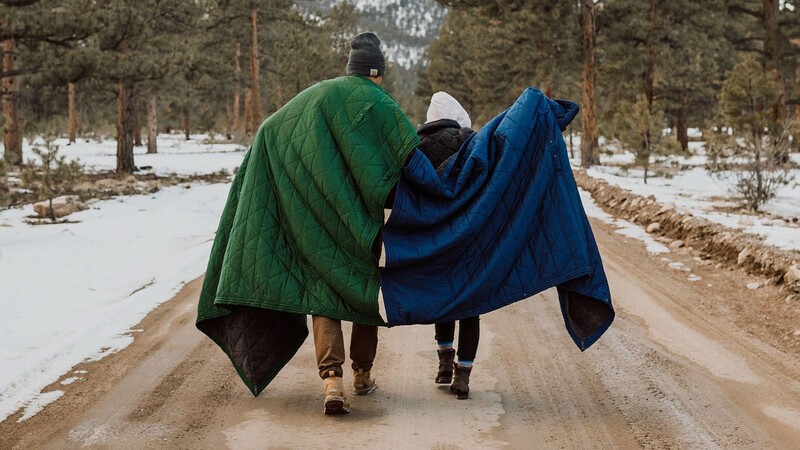 Kammock has strong credentials in the hammock marketplace, and the Mountain camping blanket is made from the same strong "Diamond Shell" 40D diamond weave ripstop nylon as their awesome hammocks. That nylon is then given a water-repellent finish to protect you from the elements.
The inner side of the Mountain blanket is an ultra-plush fleece material for cozy warmth. The Mountain blanket is designed to be used in a variety of ways: as a blanket, worn as a poncho (it even has a hole for your head), as a ground sheet, as a sleep sack, or rolled up into a pillow.
Runner Up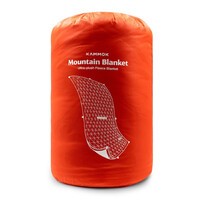 DWR Finish | Multipurpose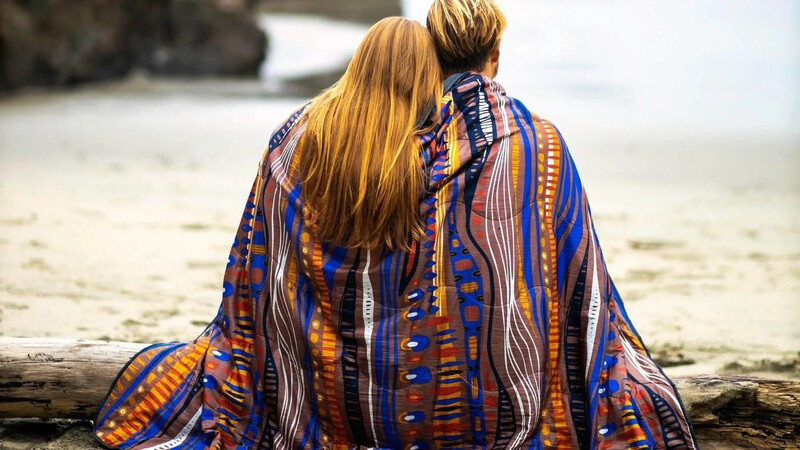 Eagles Nest Outfitters Inc, or "ENO" to its fans, offers a lightweight yet capable outdoor blanket. It comes in a range of colorful, contemporary designs with patterns inspired by lagoons, mountains, and tundras. There's also a tie-dye option if you want to channel your inner (or not-so-inner) hippy.
The FieldDay blanket has a nylon shell with water repellent finish, while the interior is an ultra-soft polar fleece lining made of 100% post-consumer recycled materials. An integrated mini-buckle turns this into a hands-free wearable cape.
Runner Up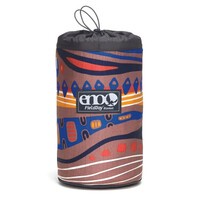 Polar Fleece Lining | Water-Repelling Nylon
Why the Rumpl Original Puffy Blanket is My Top Pick
The Rumpl Original Puffy Blanket is easy to recommend as an outdoor or camping blanket. It has an innovative design, premium materials, and attractive looks. Its impressive eco-friendly qualities also mean you can splash out in good conscience, knowing that you're not burdening the planet's resources.
I like this blanket's thoughtful design touches like the corner loops to secure when it's in use, the integrated Cape Clip to convert it into a wearable cape, and the fact the bundled stuff sack is also water-resistant.
Staff Pick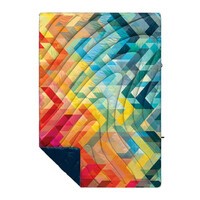 Modern Design | Stuff Sack Included
Rumpl's Original Puffy Blanket is a good-looking, hard-working solution for staying cozy in the great outdoors.