We may earn a commission for purchases using our links. Learn more.
Peak Design manages to somehow think of everything a photographer could need in a backpack. A lot of those solutions are helpful for your everyday carry, too: a side-facing zipper that gives access to everything, an adaptable strap system, and sustainable materials make it hard beat.
Pros
Stowable external straps
Multiple tech compartments
Luggage passthrough
Anti-theft zippers
Cons
Few exterior pockets
Limited interior padding
The WANDRD PRVKE sure hits a lot of the right notes. The roll-top design is a seamless way of adding more storage when needed and collapsing it when not. It has the same kind of side access as Peak Design, except it's only on one side, and for a small window at the bottom.
Pros
Front opening
Removable camera sleeve
Wide range of color options
Cons
External straps sold separately
Roll-top slow to open and close
Zip access only on one side
Your backpack is a trusty sidekick in your travels. You need to be able to rely on it. I'm super picky about the my bags for that reason. One small annoyance, repeated over years of use, can turn into something I just hate.
That's why I stick with the Peak Design Everyday Backpack. They sweat the small stuff that matters.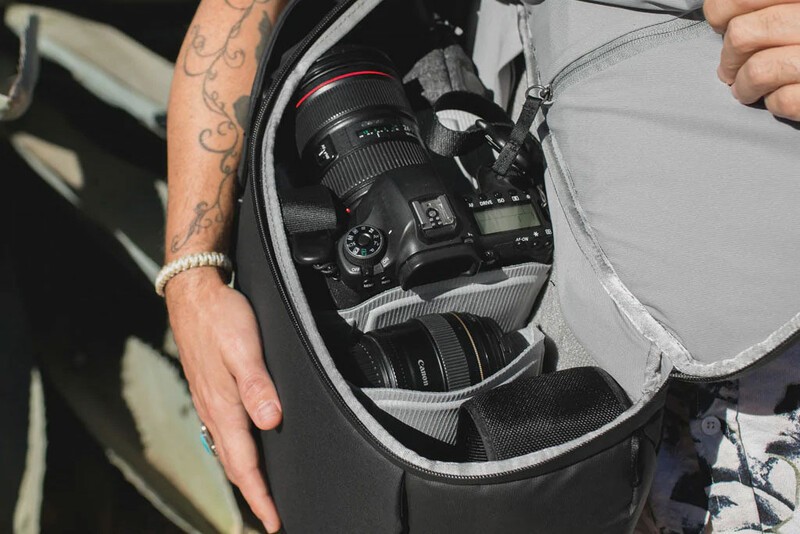 Pry Peak Design from My Cold Dead Hands
Yeah, the PRVKE is cool, but I have a hard time getting excited about it when the Peak Design Everyday Backpack is an option.
So why do we love Peak Design so much?
Peak Design covers all the little details. Those little straps they hide away makes the Everyday Backpack insanely expandable. You can load up so much more stuff on the outside of the bag that you basically don't have to think about capacity limits.
Secondly, it looks damned good. The lines are just so sharp, while PRVKE's roll-top busts up the profile in a jarring way, and the asymmetry throws me off.
The real clincher for me is that the Everyday Backpack is made with sustainable materials. We gotta think about these things when we make our purchases, y'know?
I've been using Peak Design for a while now. The competition is going to have to do a lot better to get me to even consider replacing the Everyday Backpack.