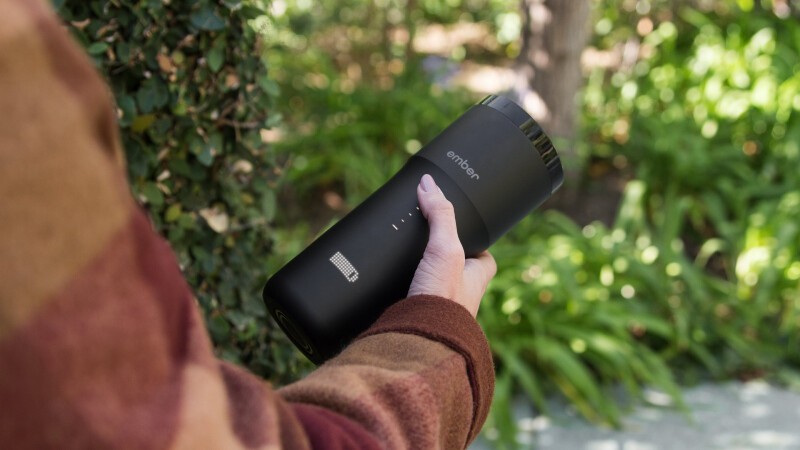 We may earn a commission for purchases using our links. Learn more.
Sometimes the only way I can get myself out of bed is because I know that hot cup of coffee is waiting for me. Honestly, some days it's all that keeps me going.
It doesn't matter if I'm in a car, cab, bus, or train, having my morning cup of coffee just gets the day started right. Except… if that coffee isn't at the right temperature. Too hot and I can't even drink it. Too cold… yeah, not for me. I needed a mug to keep it just right.
This dance to find the perfect travel mug lead me down the rabbit hole of "Battery Powered Smart Mugs" and now it's hard to go back…
So here is my breakdown and top picks for the perfect on the go Smart Mugs.
What We Looked For
Durability A travel mug needs to be sturdy to cope with a busy commute. It must be able to withstand jostling and even the occasional drop.
Style Aesthetics always matter to me, even when it's an object that needs to be functional. The mugs I'm highlighting are sleek and stylish.
Usability You should be able to easily drink from a travel mug sitting, standing, and walking. It should help, not hamper, your on-the-go sipping.
Functionality Heated travel mugs ain't cheap. These mugs all deliver on their promise to heat your beverage when you're away from home.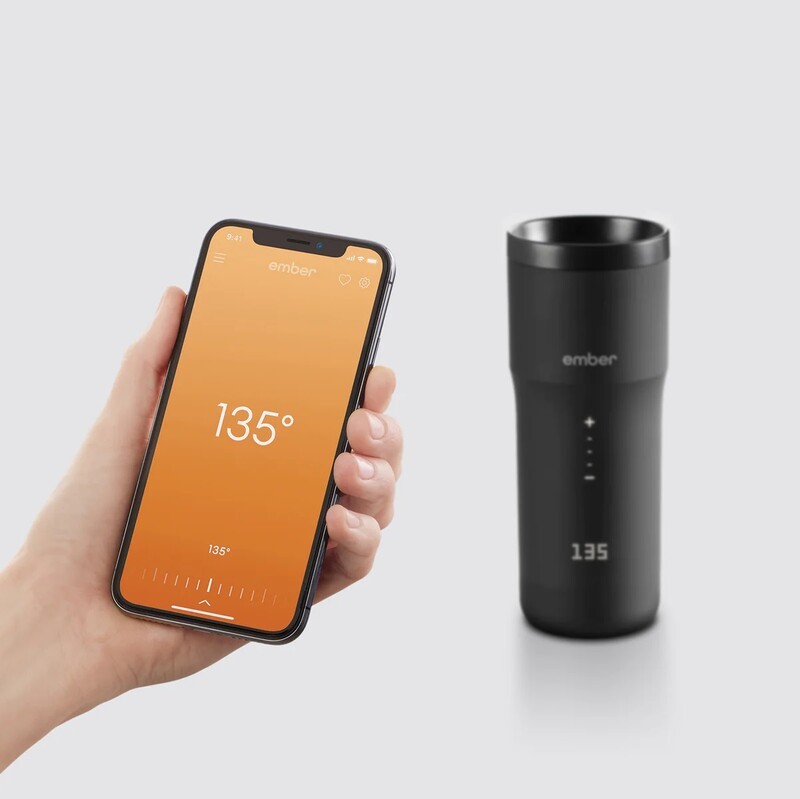 The Ember Smart Travel Mug just screams "next gen". Packed under its leakproof lid is a bunch of tech:
Slimline Design
Premium Soft Touch Finish
Hidden-til-lit LED touch controls
Seven temperature sensors
What does all this mean for you? It means you can keep your beverage at your preferred temperature, between 120°F and 145°F, for up to 3 hours.
Keep your coffee at the perfect temperature for up to 3 hours!
This mug comes complete with an attractive, oval-shaped charging coaster in a matching matt black finish. When your Ember mug is docked on the coaster it can heat continually until you turn it off, or until the 2-hour safety shut off timer kicks in. The temperature can be controlled via the LED controls on the mug, or by using the smartphone companion app.
The Ember mug's lid boasts a leakproof, push-to-open design and offers a handy 360-degree drinking experience so you can sip from any side. When you've hit your required java levels, the Ember mug is easy to hand-wash clean.
Staff Pick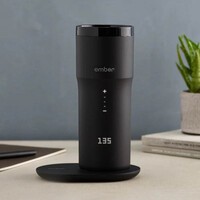 Touch Controls | Companion App | Charging Coaster
This sleek solution is a next-gen level choice for discerning, coffee-loving commuters.
Tested & Approved
Ember is the top dog for heated travel mugs, and the Travel Mug 2 embodies their sleek style and high-end tech.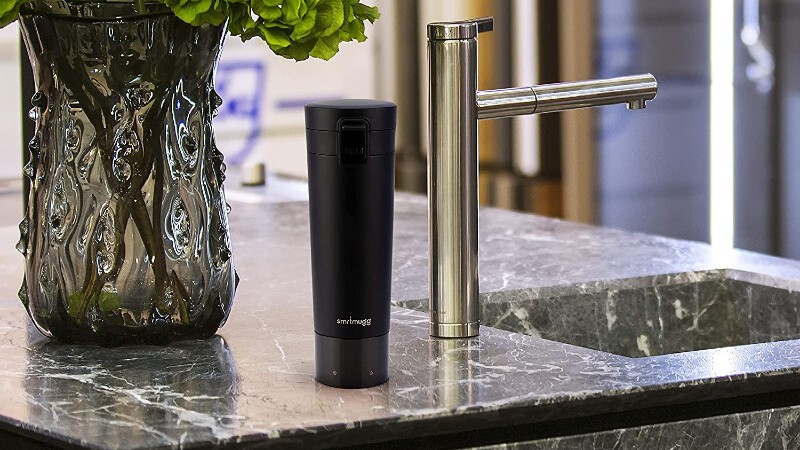 The SMRTMUGG packs a huge USB-charged battery that can keep your drink warm for 10 hours — enough for your commute to work, the whole day at the job, and the commute back home! You can add hot liquids to this mug, or let the ultra-fast heating tech get your cold coffee up to temp in 10 minutes, and then keep it at a toasty 135°F. It has a double-walled vacuum insulated construction, a lockable leakproof lid, and tactile LED controls.
Runner Up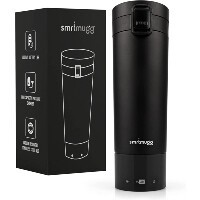 10 Hour Battery Life | Self-Heating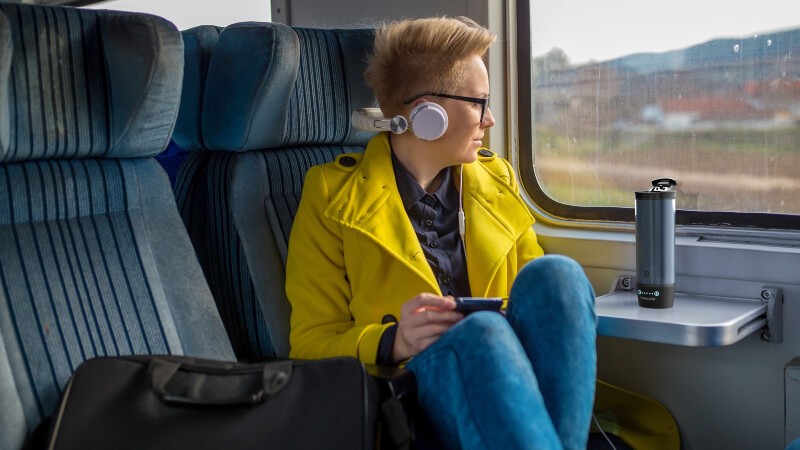 If you're looking to get your travel mug filled with a coffee from your favorite coffee store, the THRMOJOE can handle a capacity of up to 16 ounces — the perfect size for a standard "Grande" serving from popular coffee chains. Once you've charged this via USB and filled your mug, this will maintain your desired temperature and can be adjusted up or down via the built-in controls.
Runner Up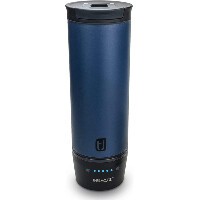 Large Capacity | Adjustable Temperature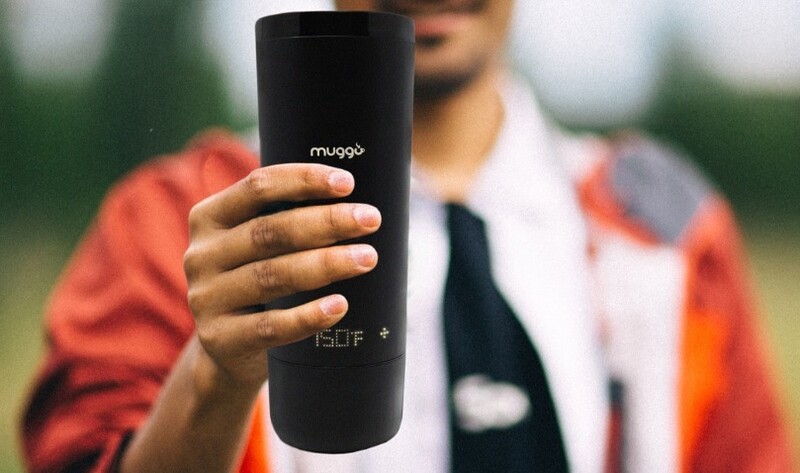 Muggo's heated travel mug is a mid-range, mid-size solution that will keep 12 ounces of your preferred beverage at a toasty temperature for up to 3 hours. It charges via USB and has easy-to-use controls on the base. The included 360-degree click-to-open leak-proof lid has a rubber seal for extra reassurance and easy drinking without fussing to have the right side facing your mouth.
Runner Up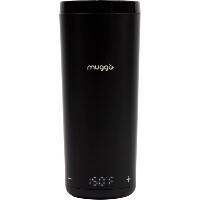 360-Degree Lid | Three Hour Battery Life
Why the Ember Travel Mug 2 is My Top Pick
I love tech that improves my lifestyle and looks good doing it. The Ember Travel Mug 2 checks both those boxes with ease.
Its sleek looks and soft touch finish just feel sophisticated, allowing you to sip in style when you're away from home. The leakproof lid gives you peace of mind, even if you're at risk of being jostled on public transport, and the 360-degree drinking angle means even the hastiest swig won't result in you spilling coffee all over yourself.
3 hours battery life is plenty enough for my on-the-go usage, and I love that the bundled coaster means I can keep a drink warm for hours when I'm working at my desk — useful for the times you get so immersed in your work you forget about your cup of Joe sitting right there.
Staff Pick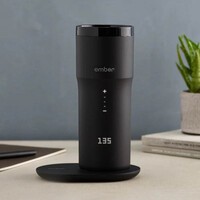 Bluetooth Connectivty | Slimline Design
High-end, high tech, and highly useful — the Ember Travel Mug 2 is a classy way to carry your coffee.
Read more